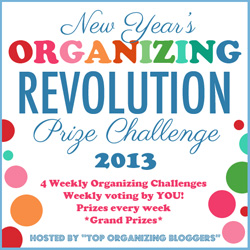 I'm late in posting! This took a while - I decided to really go deep into the cupboards, which haven't been completely organized since I moved in ten months ago. As a Canadian, I'm not eligible for the prizes, so I decided I would get needed sleep, and not stress over missing the deadline.
This is how the kitchen looked during the house inspection.
It was completely redone with fresh paint, counters, cabinets and appliances. I so love having a dishwasher!
If you followed me on
Pinterest
, you may never have expected that I'd end up dark cabinets. Well, they were included with the house package. And they've grown on me. :-)
Over the last year ... I added splashes of colour with wall stickers. I believe I got these at Wal-Mart.
The sign above the stove says "Happiness is an ocean breeze".
I found Rubbermaid drawer organizers that go with those dark cabinets.
This is my favourite organizing idea - a hanging shoe rack in the broom closet contains chemicals and cleaning supplies, including vacuum cleaner attachments.