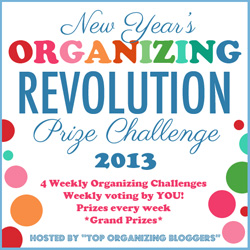 I bought my first house in 2012 - I took possession on February 27. I have so many plans for the house and not enough time or dollars. I've been frustrated at my lack of progress of getting my stuff on the walls and really making it mine. So this challenge was good motivation.
My friends have said all along that they wanted to see pictures of my house as I set things up and they wouldn't mind seeing things "in progress". It turns out that I have a hard time showing rooms "in progress" - I want to say, "Ta da! Here is the finished room!"
Well, it's 2013, and I'm going to let go of that mindset. So I will show you my desk area of the second bedroom, which I use as a home office. In progress. With the battered computer desk I want to replace, and without the nice new shelving that I've picked out but have yet to buy and assemble.
For a REAL "before" picture - this is the area before the townhouse was renovated and I signed the purchase agreement *shudder*.
The same room, on the day I took possession. New paint, new carpet, new baseboards, new vents.
Here is a gloriously imperfect and honest photo of what the area looked like I before I started this challenge this week:
The white shelves on the left are two bookcases that have been sitting in my basement since I moved in. Ten months ago. I rearranged some of the wires and did a lot of cleaning up and sorting to make everything neater. Now all of my chargers are stored on the same shelf, for example.
No reorganization can go uninspected by the cats.
One thing I wanted to do was put up some of my photography. Here is a frame that waited about a year before finally being filled with photos and put up on a wall. And I only had one of the photos upside-down when I initially hung it.